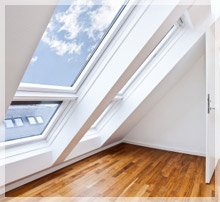 SA Build is specialized in, among other things, professional loft conversions in London, as well as in the South East area. We perform this task in such a way so as to maximise your profits of this new living or working environment. Thanks to our experience and knowledge, we can provide you with a useful piece of advice concerning your loft conversion or extension – all you have to do is just give us a call or send a message! What is more, we will suggest you many options to choose from, including the ones that will be affordable for you. We are a reliable London building company that always takes care of every single detail.
A loft conversion requires professionals from a number of disciplines who really understand their role in bringing a complex project together. From structural engineers to architectural plans and drawings, from the erection of key structural beams to the fitting of all the necessary plumbing and electrical cables, right the way through to the painting and decorating of your loft extension or conversion - SA Build based in North London are the people to get the job done.
Your first step is to contact us about your loft extensions or conversion so that we can thoroughly inspect your loft space and premises whether you are in central London, South London or anywhere in the London region. We will then offer you the best possible solution and discuss your options with you. Let SA Build give you a highly competitive quotation and assure you that your loft conversion will be carried out to the highest possible specification by SA Build, the number one Loft Conversion and Extension Company in London.
The types and range of loft conversions we offer include: Velux, Dormer and Mansard. Please give us a call to discuss your loft conversion requirements on 020 8930 7772.