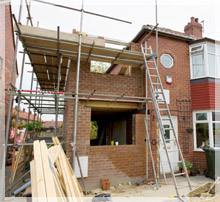 SA Build based in London are the experts in offering you the ideal solution to all your house extension or commercial property extension requirements. We understand that you wish to increase your living or working space to allow you to maximise the space you have on your premises.
House and property extensions are a key building service offered by SA Build to help you gain that extra space you need for added comfort. We appreciate that a professional, cost-effective building extension job carried out to a high specification will increase the value of your home and property as an important investment in your future.
We will help you decide on the best way to extend your house, on the best option to extend your kitchen with an extension or conversion or indeed undertake a garage conversion or extension. You might be looking for a single storey extension or a side return extension. Whatever type of home extension or property extension you require, let SA Build provide you with the solution.
We are experts in all types of home and building extensions. We will visit your premises and guide you through the entire process from the initial planning application and permission to the final touches. We will also add those finishing touches, and can offer you a professional painting and decorating job to complete the perfect job.
For all enquiries about your extensions and to arrange a visit and to get a quote, please contact us on 020 8930 7772.