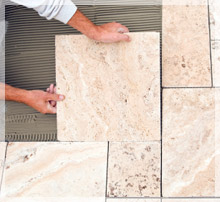 SA Build, based in London, appreciates that high quality workmanship and specialist tiling skills are critical in creating durable, aesthetically pleasing spaces in both home and business environments.
All of our tradesmen and tillers work to the highest of standards and we offer a wide range of tiling options for you at very competitive rates. We will consult with you to talk through your requirements and show you our range of tiles sourced from only the best suppliers, grouting options of all descriptions, and finishes and materials available.
SA BUILD will work closely with you to create the ideal tiling solution you require for your bathroom, kitchen, living or office space.
SA BUILD will only use the most durable and effective adhesives and the very best of grouting materials to help protect your tiles and maximise their lifetime.
We also offer expert advice on the best ways to protect and preserve your tiles in the future.
SA Build offers you a very diverse range of tiling options to select from. These options include fitting ceramic, porcelain, granite, limestone, slate or mosaic tiles - with many more besides to select from.
We fully guarantee and insure all of our tiling work so that you have complete peace of mind. So if you are looking for a quality local London tiller who appreciates your business, you need look no further.
Please contact us to discuss your London tiling requirements in more detail on 020 8930 7772.