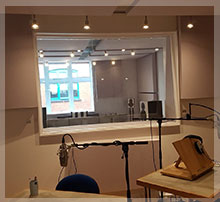 Soundproofing is of the utmost importance. Whether it's for your home or business, you want to make sure that sound isn't being absorbed from one room to another. This is particularly important if you have a sound studio.
At SA Build Ltd, we offer comprehensive soundproofing services. When you're looking for a solution for your property, we can offer soundproofing for:
- Walls
- Floors
- Ceilings
We take the time to provide expert advice when it comes to sound reinforcement as well as noise reduction. If you're having band practice in the garage, you can practice at any time of the night or day without waking up the neighbours or anyone in the house – it's all because of our commitment to premium insulation.

We will follow all of the necessary soundproofing and insulation requirements based on where you live and what kind of setup you currently have.

Enjoy the Sound Where It Is
Sound shouldn't travel all over the place. It's important to provide a place of peace and tranquility. However, most walls, ceilings, and floors are too thin for that to happen. If you're making a lot of noise in one room, people are going to hear it in other parts of the building – and that's not fair to anyone.
We're professionals at SA Build – and we know what it takes to provide quality soundproofing services. With our expertise, we can reduce the noise in any room, in any building.

Schedule an Enquiry Today
We're happy to provide you with a free, no-obligation quote for soundproofing your property. Whether it's a recording studio, a bedroom, an office, a garage, or some other type of venue, we're here to help.
Contact us using the form below or give us a call. We'll visit your property and talk to you more about your soundproofing needs. From there, we'll give you a quote.